Multi-functional rehabilitation walker for hospital use KW300
Multi-functional rehabilitation walker for hospital use KW300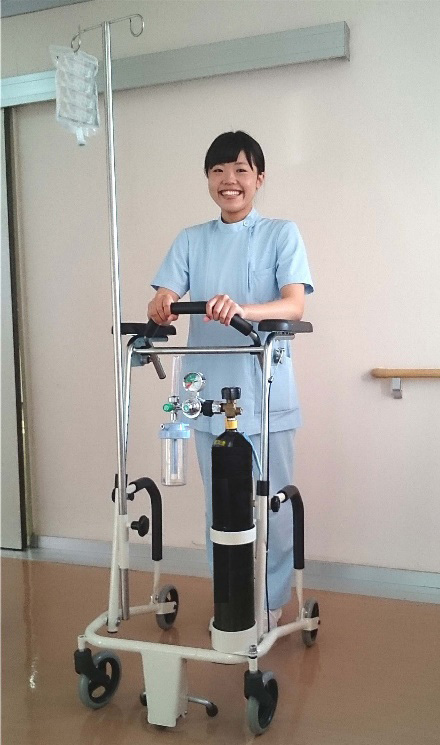 Standard accessories: IV stick, oxygen cylinder stand, small basket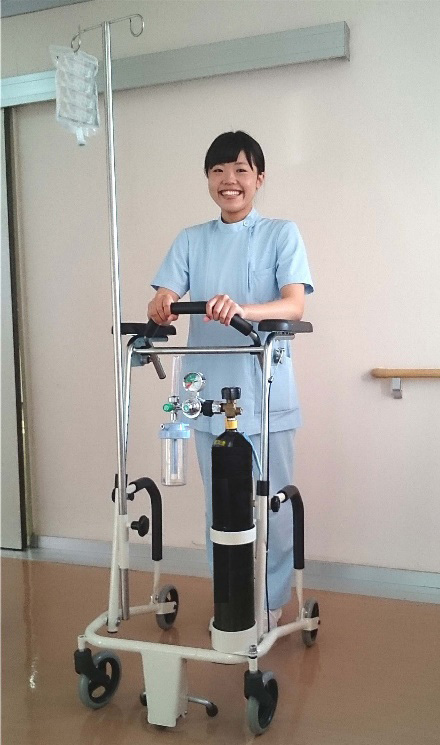 Product outlines
(1) This walker is a product corroboratory developed with a rehabilitation hospital.
(2) The oxygen cylinder and IV (intravenous) rod can be set on the walker.
(3) The main part is finished with baking finish and chrome plating, thus it keeps hygienic and beautiful even after many years of its use.
(4) With a wide elbow rest (forearm support), the weight of person is supported and it eases a walk for long time and makes less fatigue.
It helps to stretch a person's lower back and to perform walking rehabilitation in a good posture.
(5) The handle is V-shaped, an it is easy to hold.
(6) It serves as 3 roles in one unit, as the handle has an inverting a front and a rear side structure.
①By tilting it in behind, to stand up.
②By tilting it in back, to break automatically.
③By tilting in front, to hand hold for walking.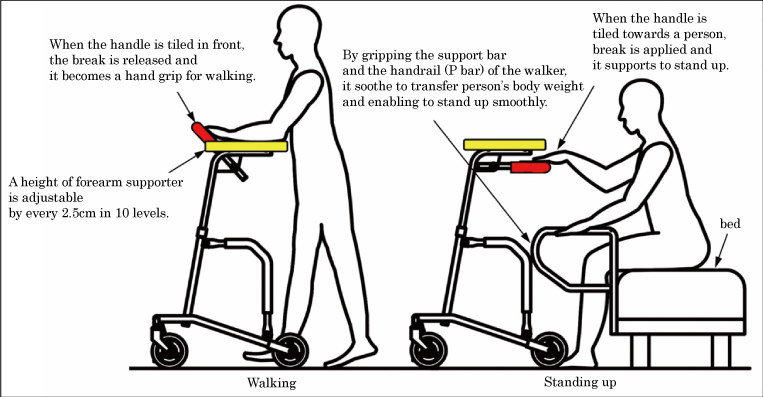 (7) An oxygen cylinder stand is attached as a part of standard accessories.  It holds an oxygen cylinder firmly by inserting which does not stick out from the walker.  It keeps a balance of the walker still.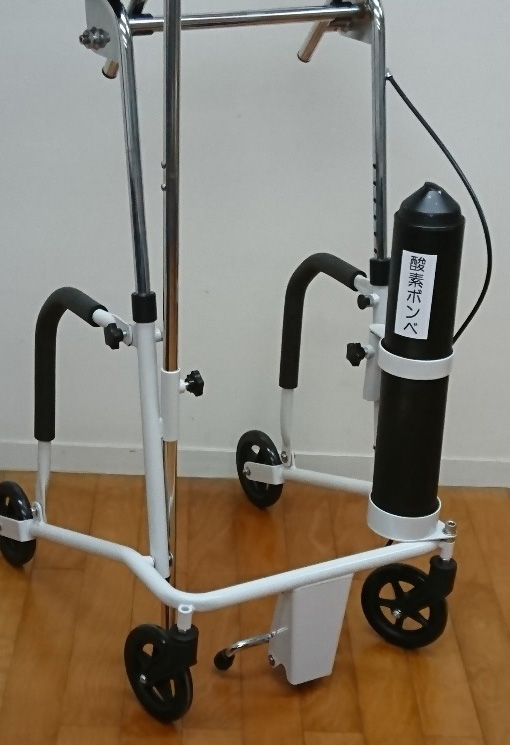 (8) IV rod mounting bracket is attached as a part of standard accessories.  By inserting the rod from the top, it locks still.  The height can be adjusted according to a person's height.
(9) A small basket is included as a part of standard accessories.  A bag, wallet, or/and a mobile phone can be stored. It makes convenient when taking a walk or shopping at a store as a rehabilitation.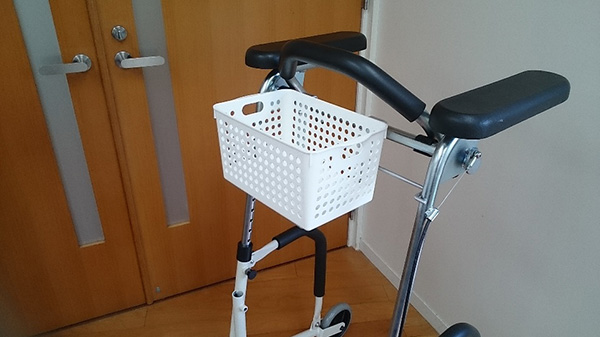 (10) The height of the handle can be easily adjusted.  As shown on the photo, pull the knob to unlock and lock it again at the necessary height.  Be sure to support the handle not to fall while adjusting.  The knob is in the locked position when it clicks, and slide the handle up and down when released.
At pull
At release to turn the knob
Turn to the original position to lock
Specifications
Weight
16kg
Material
Iron/ Resin
Dimensions
Total length 68cm Width 55cm Height 91~117cm
Fit height
140~180cm
Standard accessories
IV drop rod mounting bracket

Oxygen cylinder (diameter 10cm) stand

Small basket (W25cm D15 H15)

Elbow rest height
85~110cm 2.5cm pitch, 10 levels
IV drip stick height
165~200cm
How to Use
(1)The walker can be folded.  It is a folded position at delivery.  Take the walker out of the cardboard box, raise the handle, and fix and lock it with the knob.



(2)Set the IV drop rod and oxygen cylinder as necessary.
(3)Make sure to stand up by gripping the handle at the break position.
(4)Tilt the handle in front to release a break, and start the walking rehabilitation.
(5)The main part moves very smoothly, thus be mindful when walking on slopes and steps.
* See the instruction manual for details.